Industrial Wax Melter

---
Our wax melters are perfect for any industry. Used for candle wax, beeswax, honey, soap, lotions, chocolate, or any other wax and oil melting need your business may have. With a water jacketed wax melter, you get even heat dispersal without hot spots, which will cause rancid or oxidized oils. Don't risk degrading your oils with direct heat tanks. Give your customers the highest quality products by heating them in our water jacketed tanks!

Our commercial wax melting tanks are manufactured with high quality 304 stainless steel that is food and cosmetic grade, meets requirements for organic certification and has great anti-corrosion properties. Our wax warmers are heavy duty to withstand continual professional use for many years to come.

Seven sizes of wax melting pots are available to meet your every need. We can also custom build any size tank you may require to your exacting specifications. If you don't find the tank size you need here just call or Contact Us. No job is too big or too small for Willow Way with our decades of experience in building custom tank designs and full custom tank systems.

All Tanks with Sloped Bottoms!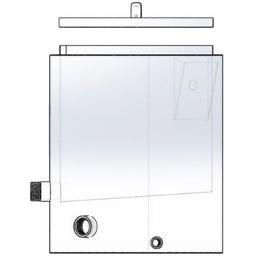 No additional cost!
Exclusive sloped bottom inner tank gives increased efficiency.
Never a need to tilt your tank or stand to get the last drops out.
Makes clean up easy.​

Honey • Soap Making • Oil • Wax • Chocolate • Fat/Tallow • Butter • CBD • Cheese • Engineering •Edibles
Not sure what size to order?

Our Wax Melting Tanks & Accessories
---
Your Dynamic Snippet will be displayed here... This message is displayed because you did not provided both a filter and a template to use.

Your Dynamic Snippet will be displayed here... This message is displayed because you did not provided both a filter and a template to use.

Key Benefits:
---
Water Jacket:

Don't burn or oxidize your oils with direct heat! Our double boilers will evenly heat your material without compromising it's quality.
Slopped Bottom:
Drains all oils making clean up and use a breeze. Same functionality as conical bottom tanks without the difficulties.
Food Grade Construction:
Tanks are TIG welded out of 304 stainless steel.
Made in USA:
100% of tank is manufactured in Indiana with the craftsmanship and quality control that you can rely on. All parts sourced domestically.

Wax Melters in Stock:
Material shortages got you down? No worries! We have tanks in stock and can ship out most products in under a week.
Industries:
---
Candle Wax

Beeswax

Honey Processing

Chocolate and Confectionery

Cheese Wax

Oil Melting

Soap Making

Soy Wax

Gel Wax

Fat

Tallow

Cannabis and Cannabinoids (CBD)

Edibles

Gummies

Applications:
---
Wax Melting

Wax Warming

Wax Pouring

Candle Dipping

Bottling

Mixing

Extraction

Filling

Filtering

Distilling

Emulsification

Chemical Synthesis

Decarboxylation

Oil Infusion

We ship worldwide! Serving over 145 Countries & Thousands of Cities since 1996.